News & Events
Some notes…2015 Broadway Our Way: The Comedy Edition
From Amanda Kind
Broadway Our Way Project Manager (and KWMP Enthusiast!)
———————
Hello everyone!
We're getting to the final countdown for our fall fundraiser—Broadway Our Way: The Comedy Edition— on stage at The Registry Theatre from November 5–7. There are so many fun numbers in this show! You won't want to miss the hilarity as over 40 KWMP members sing, dance (and try not to laugh) while they perform some of the funniest numbers in show business history.
It's been my privilege to be the curator of sorts for this variety show. I've had the honour to work with several directors to build this project including Eric Da Costa, Trevor Middleton, Joanna Guistini, Sarah Petker, Tim Jackson, Terry Barna and David Atkins. We've also been very lucky to have Ciara Moules, Sarah Willett and Christine Watson bring their awesome moves to the table by choreographing a few numbers. And last but not least, we are very fortunate to have Bob Lee as the Music Director for this production—he's basically been run ragged since the middle of July learning all 20 songs!
How do I explain this show to you?
It's a cabaret show, just like our fundraiser was last year, except this time every single number is funny. Rob Bridel, who last year brought down the house with his delightfully hilarious sketch comedy, is back as the host… who knows what he will do?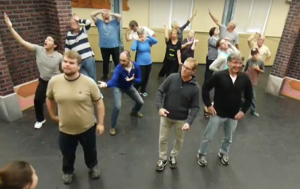 In terms of songs, we have a great variety…and all funny. These well-known tunes like "Comedy Tonight" from A Funny Thing Happened on the Way to the Forum, "Wash that Man Right out of my Hair" from South Pacific, and "Hello" from The Book of Mormon. Plus, there are a bunch of lesser known (but equally hilarious) tunes like "Transylvania Mania" from Young Frankenstein, and "The Alto's Lament," a hilarious ditty about what it's like to be an alto in musical theatre (hint: it sucks).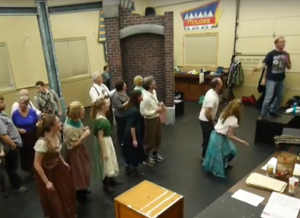 We are having a blast in rehearsal. There has been loads of laughter and music. We're also doing some darker comedy numbers as well—Vicci Taylor and Terry Barna will perform "A Little Priest" from Sweeney Todd, and Rob and a few others will do "Dentist" from Little Shop of Horrors. These ones are still funny, but in a bit more of a sinister way…Plus you get to see Tristan Pilcher and Andrew Wong in full body spandex unitards as the eels in "Sweet Child" from The Little Mermaid… That's comedy right there.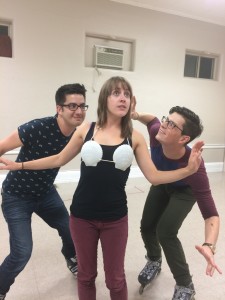 Please buy a ticket. Come see the show and help support all the wonderful work we do at KWMP. I promise you will laugh your head off. You'll have a marvelous time supporting the arts in this region and you'll walk away feeling great. We're finishing the show with a really awesome number from Sister Act The Musical—that's all I'm gonna say about it because it's too fun to reveal any more details!
Tickets are on sale now and they're only $20 plus HST. Please join us. We've been rehearsing the show since the beginning of September but really there is no show without the audience—so now we look to you to complete the theatrical puzzle. Click here to buy a ticket now, I promise you won't regret it.
See you the show!
Amanda
Comments are closed.