About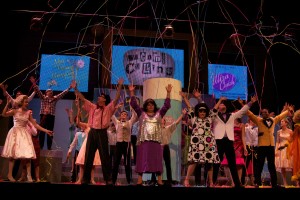 Kitchener Waterloo Musical Productions, affectionately known as KWMP, was founded in 1948 as the Twin City Operatic Society. The early productions were performed in the auditorium at The Church of the Good Shepherd. As the performances grew and a larger space was needed, the stages at KCI and WCI fit the bill. In 1968, the group found a permanent home for rehearsing, set building and storage at its current location on Shaftsbury Drive. It was renamed Kitchener Waterloo Musical Productions to fit the broad scope of its artistic programming.
More than 65 years later, KWMP continues to be one of the top community theatre organizations in Canada. The group performs three productions a year: two major musicals in November and February, and a variety show style fundraiser in the spring.
On stage and off, many dedicated volunteers are committed to the vitality of the organization. New members are always welcome. Explore your creative side – perform on stage, build scenery, sew costumes, sell tickets and more. Click here to sign up for our email notices about auditions, volunteer recruitment and performances to find out how you can become part of the KWMP family.