Shrek Student Previews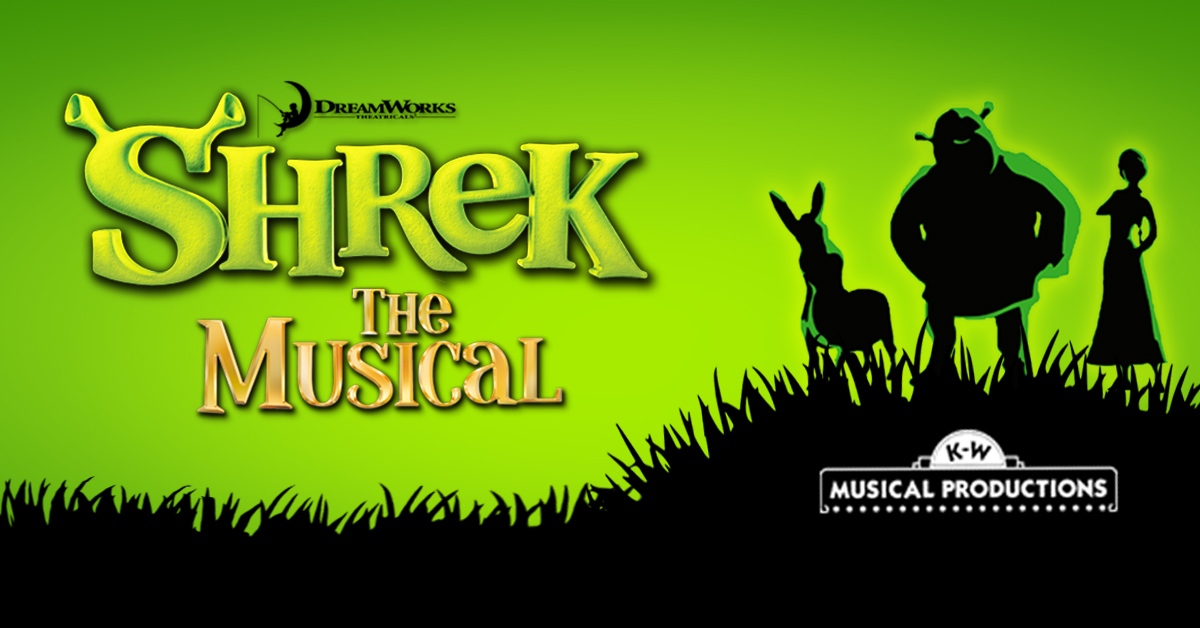 KWMP is a community theatre organization that has been providing opportunities for members of our community to shine, both on and off stage since 1948. Our student matinees offer educators the ability to engage their students through the magic of theater and expand their learning in and outside of the classroom.
Shrek the Musical
Synopsis:
Shrek the Musical is a one-of-a-kind, hilarious fairy tale in which curses are reversed, monsters get the girls, donkeys and dragons find love, and princesses are beautiful in all shapes and sizes. Grumpy, gruff, green ogre Shrek lives alone in his swamp. The world is fearful and mocking of him, and he is more than happy to leave the world to itself, in turn. Suddenly, his hermit existence is thrown open, when a group of homeless fairy tale characters — Pinocchio, the Gingerbread Man, the Three Little Pigs, and more — burst upon his swamp, seeking refuge from the persecution of the cruel, vertically-challenged Lord Farquaad.
Show Themes: Friendship, Love, Good vs Evil, Loneliness, Beauty/Body image
Runtime: 2.5 hours
Ticket Price: $16+hst
Theatre: St Jacobs Country Playhouse, 40 Benjamin Road East, Waterloo
Theatre Size: 400 seats
Show Dates:
February 7th, 10:30 am – WAITING LIST

February 8th, 10:30 am – WAITING LIST

February 15th, 10:30 am – WAITING LIST
Recommended for students of all ages
Ticket purchase policies:
This is a booking request form only; your order is not confirmed until your deposit is received by KWMP, and you receive a written confirmation from a KWMP representative.
Seating for school performances is often based on grade level.
Seating is at the full discretion of KWMP and may be changed at any time.
Student tickets are $18.08 total per person ($16.00+hst).
Complimentary tickets for teachers and chaperones are given at a 1 per 10 ratio.
Availability is on a first-come, first-served basis.
A $300 deposit is due upon receipt to confirm your booking.
You will receive a copy of your invoice by e-mail. Your invoice will confirm costs.
You may reduce your numbers up until January 15, 2018. No cancellation after January 15, 2018.
You may increase your numbers at any time depending on availability.
The balance must be paid in full 3 weeks prior to the performance. Tickets are non-refundable.
Last year's production sold out, so make sure you order your class's tickets early!
Please mail your checks to:
ATTN: SCHOOL PERFORMANCES 14 Shaftsbury Drive, Kitchener, Ontario, N2A 1N5
If you have any questions please email us at Marketing@KWMP.ca